Kids Competition March 2000
This photograph shows a dogs dirty teeth.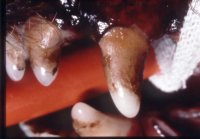 There were two questions to answer in this months Quiz :
Q1 The deposit that builds up on teeth is called which of the following :

ANSWER - ALL OF THE ABOVE !

Q2 Owners should brush dog and cat teeth regularly to prevent dental disease
TRUE OR FALSE ?
(Clue : We know you don't know the answer to Q1 but you can find the answers easily by typing the words into the Search Information button)
Send your answers by e-mail to Kids@provet.co.uk
Closing Date for Entries : April 1st 2000